Many think of the bathroom only as a space to insert sanitary ware, in which the functional needs far outweigh the aesthetic concerns but reality tells us instead that we spend a lot of our time in this environment. Time that paradoxically we should spend in the most optimal psychological condition for a true condition of relaxation.
In this respect it has the same role in our daily life as the bedroom, so why pay less attention to the bathroom, why not commit to making it a comfortable and elegant room, as well as functional? Here are some tips on how to do it.
First of all, it is important to study the available spaces carefully, choosing the furniture according to the volumes already occupied by the sanitary ware.
In general, more refined minimalism is preferable than an overloaded space, the bathroom must be both a functional and relaxing place and the massing of bathroom fixtures and furnishings is exactly the opposite. All bathroom products can create this problem, but it can be easily solved with storage units and a minimum of sense of order.
The bathroom also requires frequent cleaning, so choices that make this easier are encouraged, such as wall-hung furniture and fixtures and recessed faucets in the wall.
---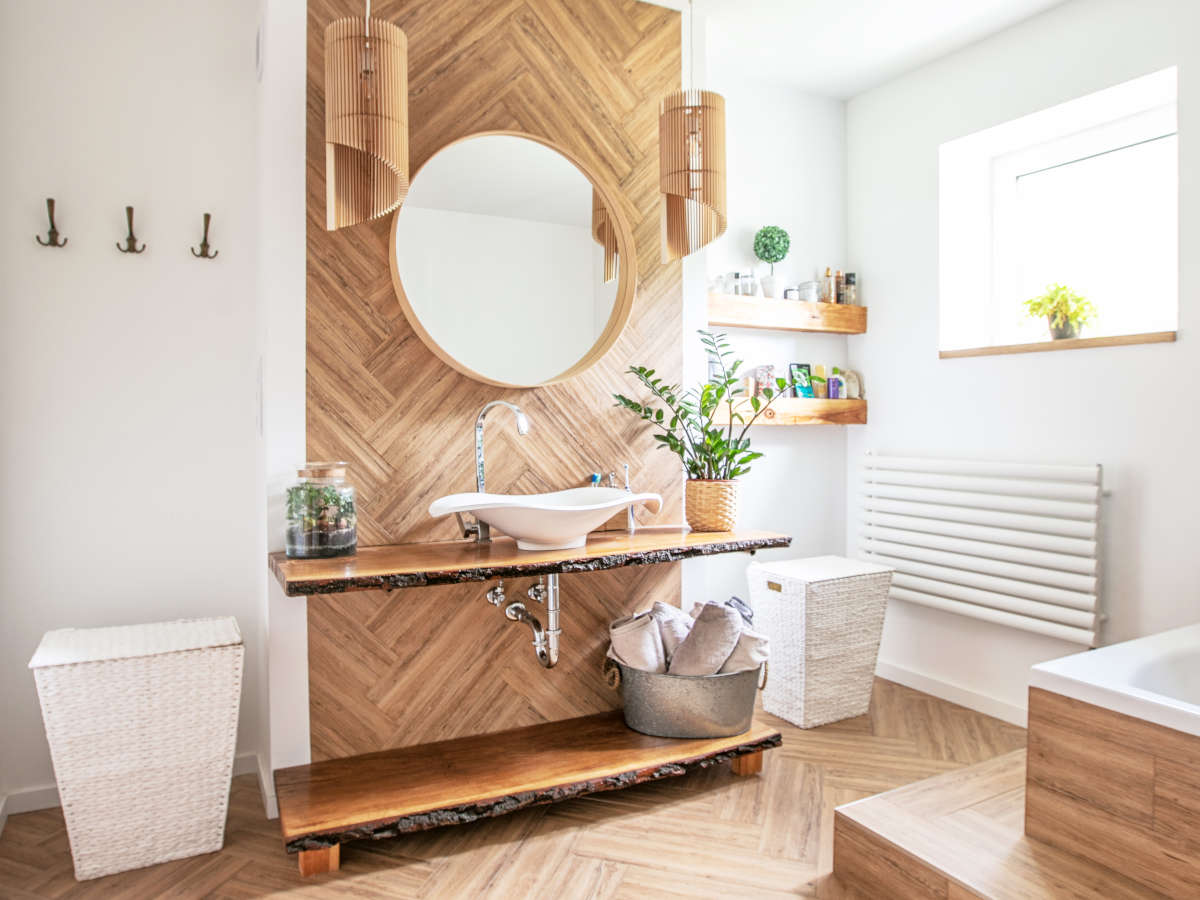 As for the material, wood is undoubtedly a very interesting choice, because it helps to create a feeling of warmth and intimacy, and gives elegance to the environment.
Among the most suitable varieties for the bathroom we find pine, oak, acacia, chestnut, beech and larch: you will be spoiled for choice for shades, physical characteristics and aesthetic presence.
Some of these choices, such as acacia and larch, demonstrate greater water resistance, but in principle it is necessary to protect the wood in the bathroom, as its porosity leads it to absorb the water that is inevitably present in the room, such as drops or humidity, as well as coming into contact with various substances contained in hygiene and cleaning products.
For over 70 years, ICRO COATINGS has been offering wood varnishes that allow you to protect bathroom furniture.
Thanks to wood paints, you do not give up the charm, warmth, tactile sensations and even the aroma of wood in the bathroom and can be used for modern tops, furniture, panels, walls and floors: contact our technical assistance immediately for more information.